Articles & Images
'Local Actress Weds H. DeF. Bogart, Actor'
This article, by Kevin Flood, first appeared in the Journal Inquirer newspaper of Manchester on April 3, 1999.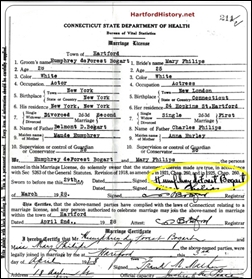 A copy of Humphrey Bogart's Hartford marriage license, with his signature circled. Click for a larger version.
The day Humphrey Bogart came to Hartford it was to get married—and practically nobody noticed.
Much of that had to do with the date: April 3, 1928. It would be more than a decade before Bogart began making the movies that made him legendary. He was 28 and a Broadway actor—a minor celebrity in New York City, an unknown beyond it.
No wonder, then, that one Hartford newspaper reported the wedding a few days afterward on page 15 with the headline: "Miss Mary Philips, Local Actress, Weds H. DeF. Bogart, Actor."
Philips, three years younger than Humphrey DeForest Bogart, had been born in New London and educated in a New Haven convent. Since beginning her stage career in 1920 with chorus parts, she had risen to become a star of such productions as "Two Girls Wanted" and "The Old Soak," plays forgotten now but successful at the time.
Though Philips and Bogart lived in New York, the wedding was in Hartford because her mother, Anne, lived there, at 24 Hopkins St. City directories of the period indicate that the address belonged to an apartment building across from the old Hartford Public High School.
The ceremony, according to newspaper accounts and a marriage certificate still on file at City Hall, was conducted at the Philips home by a justice of the peace.
When Bogart arrived in town, he was an actor with steady work, though his career seemed to point nowhere near "Casablanca." Indeed, his roles tended toward variations on what some called a "white-pants Willy"—the handsome but callow young man who was a staple of many drawing-room comedies.
He had met Philips in 1924, as both found early success in a drama called "Nerves." Romance took a roundabout route. Philips, convinced that Bogart's good reviews were giving him a swelled head, decided one night to ignore a stage direction that called for her to walk discreetly away from him.
As he later recounted to biographer Joe Hyams, "I noticed her putting a lot of that into her walk"—so much that it distracted the audience from Bogart's lines. Backstage, he accused her of stealing his scene and told her to stop it.
"Suppose you try to stop me,"she replied, with a glint in her eye.
Now Bogart found himself attracted to Philips. But he also became attracted to Helen Mencken, a star bigger than either of them. Bogart and Mencken married in 1926, but the relationship deteriorated quickly, largely because he found it too difficult to live in her shadow. By the fall of 1927, Bogart was divorced.
A.M. Sperber and Eric Lax, in their exhaustive 1997 biography "Bogart," say the actor began spending most of his time "touring speakeasies ... or involving himself with a succession of chorus girls."
One night, after seeing Al Jolson's new film "The Jazz Singer," Bogart stopped backstage at a nearby theater, hoping to meet an actress friend. Instead, he found Philips, and this time they clicked.
"Philips, herself an accomplished drinker, became his speakeasy touring com- panion," Sperber and Lax wrote, adding that Philips also encouraged Bogart to take his acting more seriously.
There was some commotion in Hartford on their wedding day: a torchlight victory parade for Republican mayoral victor Walter E. "Batty" Batterson, narrowly elected despite allegations of voting fraud.
It's possible the newlyweds saw some of the hoopla but more likely that they'd left town by then. Newspapers said they departed for a New York reception following the ceremony, with Mrs. Philips in tow. From there it was two weeks in Atlantic City - and about 10 years of deepening misery.
Professionally, both continued riding the Broadway boom of the 1920s, even starring together in a production. But arrival of the Great Depression decimated New York's show business.
Bogart took a chance to act in a few Hollywood movies and urged Philips to join him, but she refused, pointing to a stage obligation.
He went west anyway, and at Philips' suggestion they became a "modern couple," free to date.
Bogart's first Hollywood foray didn't last long, and by late 1931 he was back in New York, living in a tenement with Philips. Neither could find much work. This was the period when Bogart earned money by playing chess in an arcade window, taking on all challengers.
It wasn't until 1935 that he landed the role that lifted him out of poverty and ultimately back to Hollywood, that of cold-blooded killer Duke Mantee in "The Petrified Forest."
In 1938, his marriage to Mary Philips finally, formally, ended. Ahead were two more marriages, to character actress Mayo Methot and then to Lauren Bacall.
By the time of the divorce Philips was in Hollywood too. She played supporting roles in a number of films over two decades, most notably as Nurse Ferguson in the 1932 adaptation of Ernest Hemingway's novel "A Farewell To Arms," starring Gary Cooper and Helen Hayes. In 1954 she had a role in "Prince Valiant." She died in 1975.
Aside from a slip of paper in the town clerk's vault at Hartford City Hall, and some newspaper stories on microfilm, there seems nothing left in the city to signify what happened 71 years ago today.
And anyone planning to drive by the place where Humphrey Bogart got married can forget about it, though driving over it is easy. Hopkins Street and everything on it were obliterated in the early 1960s to make way for Interstate 84.