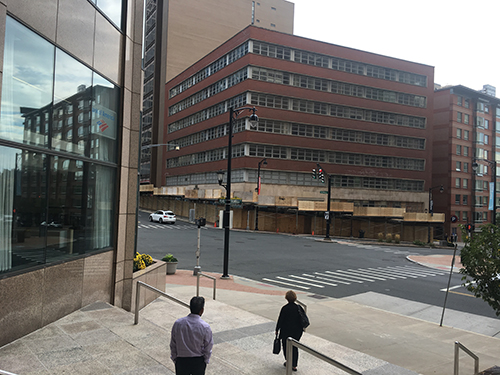 It's nice to see progress in the plans to rehabilitate the long-vacant office buildings at the corner of Pearl and Trumbull streets.
The Hartford Business Journal reports that a New York-based partnership has secured $12.6 million in financing to convert the 12-story building at 101 Pearl Street in 157 market-rate apartments. The partnership also intends to convert neighboring seven-story building at 111 Pearl Street into 101 apartments.
Those of us who frequented downtown watering holes in the early 1980s best remember 111 Pearl as the home of Sean Patrick's, a basement-level bar; you could look down into it through street-level windows on the Trumbull Street side.
The building was to have been torn down in the early 1990s to make way for one of several downtown skyscraper projects that, thanks to an epic real-estate collapse, came to nothing. The 101 Pearl site would have become the Cutter Financial Center, planned as the tallest building in New England. The project never made it to the demolition stage (developer Anthony F. Cutaia ran out of money and eventually ended up in prison for running a Ponzi scheme in South Florida), but the other sites weren't so fortunate. For more on those debacles, read "What Hartford Was Supposed to Be," an article on the Connecticut Historical Society's website.
H/T Facebook's "Old Hartford" group